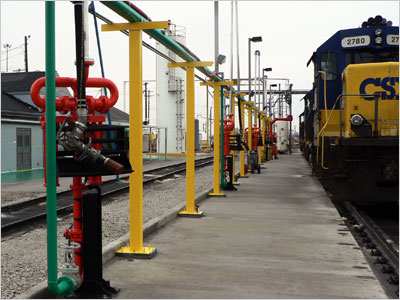 CWI Quality Standard
CWI is dedicated to providing quality products, services, and solutions to the Railroad Industry. We are committed to the continual improvement of our products and processes to achieve our quality objectives, minimize costs to our customers and realize a reasonable profit that will provide a stable future for our Corporation and our Employees. Within this framework, we will establish and review Quality Objectives as we strive to grow and enhance our business, products, solutions, customer relationships and industry recognition.
Quality Objectives:
To promote Quality Improvement based on a total quality control effort by each employee at all levels within the company.
To strive for prevention of defects or rework through continual training with emphasis on quality improvement. Foster a "Do it right the first time" approach and eliminate rework. Development of all personnel through training at all levels of the company.
To perform value-added work, and those actions necessary to fully satisfy the needs of the customer.
A Total Quality Management approach where every employee, supplier, and customer is regarded as an essential part of the process.
The primary objective and expectation is for our customers to have full confidence in CWI and its employees. Customer satisfaction is fundamental to long term success. This will be achieved through the actions of each employee, in conjunction with supportive participation from all levels of management.
Every Employee at CWI is empowered to stop production or hold a shipment or pause a project if they have any concerns about the quality or conformance of any item, service, or process.
Our number one goal: help our customer to define their requirements then provide the best solutions and installations necessary to meet or exceed their needs. Our success depends upon repeat business and this can only be achieved through a "doing what we say and standing behind what we do" attitude.
We guarantee our quality of work and when given the opportunity to provide a turnkey solution, we also guarantee the performance of everything we install. We back these promises up with the fact that we provide On-site Services and have been doing so for the railroad industry since 1984. We are here with you for the long haul.