Facility Types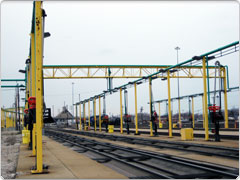 Mainline Fueling
With decades of experience in designing, installing and maintaining all types of locomotive fueling systems it is evident that CWI would be your best choice for engineering, installing and maintaining your next Mainline Fueling installation. Whether you are installing a Mainline Fueling station adjacent to your Service Center or at a remote location, CWI has the experience to handle the unique issues that arise. Our extensive experience will provide a solution that will meet and exceed your most stringent performance specifications for fuel delivery to your new or upgraded facility. CWI provides a Turnkey Solution with a performance guarantee.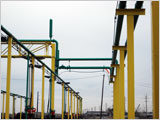 Pipe sizing, pump specifications, control devices, thermal relief, product velocity, pipe movement, friction loss, measurement, and environmental considerations are all crucial factors to be considered in locomotive fueling system design. CWI's railroad specific experience allows us to appropriately address all necessary issues in the design phase and perform safe and efficient installations with minimal disruption to ongoing operations.
Many remote Mainline Fueling installations fail to meet performance requirements because most installers and designers do not have significant railroad specific experience with locomotive fueling. CWI only designs, builds, and services Railroad Facilities and Products.
Your justification to install a new or rebuild an existing Mainline Fueling station is based upon the rate at which a locomotive can be serviced. Let CWI be your turnkey designer, builder, and installer and fueling issues will be our problem and not yours. We guarantee it, for today and with our On-call Services well into the future.