Service Types
Construction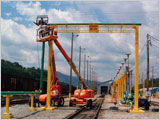 With a foundation in the meter proving industry combined with an "I can do that" attitude, CWI has grown to be a premier provider of numerous requirements of a Locomotive Service Center. When you partner with CWI you are adding to your team a complete design and build group that specializes in engineered railroad specific equipment.
In today's competitive market where time truly is money, let CWI provide you with the most efficient locomotive servicing available. Whether it is fueling, sanding, lubricating, removing retainage water, cleaning the cabs or reclaiming locomotive coolant water CWI can design, install and service the most efficient systems through time proven designs that guarantee optimal performance, reliability and ease of operation. Please think of CWI as your one stop Locomotive Service Facility supplier.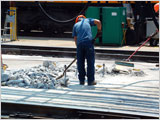 CWI employs multiple crews who work only at rail yards. All of our crews are roadway worker trained and cleared through the E-Railsafe system. They are led by experienced foremen who understand that safety is our number one priority on every project. All employees are First Aid and CPR with AED certified. Documented Job Briefings are conducted at the beginning of each shift and whenever tasks or conditions change. Communication with railroad employees is maintained to ensure their safety and ours.
From rebuilding an existing service center to installing 2000 feet of HDPE yard air, CWI has been managing rail yard construction projects for over 25 years. CWI made a decision from the start to provide solutions, both installation and service, for the railroad industry and we have not deviated. To exist this long in one industry, as we have, it is necessary to be better than just good.
Success in the construction business requires versatility to handle all aspects of a project and experience to provide a quality finished product on time and on budget.
CWI profits from long term relationships, not change orders.
Let CWI prove these facts by allowing us to partner with you on your next construction project.